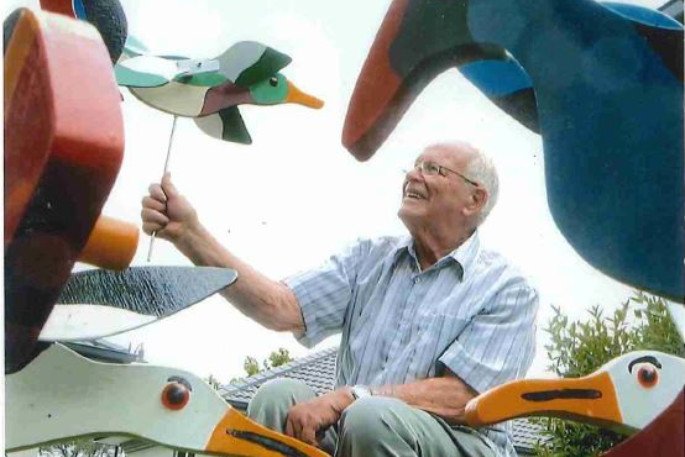 George McMillan with his garden windmill birds.
Homes of Hope volunteers want to make a meaningful contribution and a difference in the lives of children who come to them from very hard places.
Homes of Hope is a charity that is passionate about delivering the best therapeutic foster care services within a strong community.
They work to prevent siblings from being separated and ensure the stability of children's foster care for as long as it is needed.
Homes of Hope provide safe, loving homes where siblings in care can stay together.
"Seeing the value in what we do – our volunteers want to play a part in that," says Homes of Hope CEO Hillary Price.
"There is so much involved in running a charity service like ours and the volunteers contribute in many ways – cooking, baking, working bees, fundraising, sausage sizzles.
"They bring much needed practical help, but also lots of love and encouragement. One very special person who brings this is Poppa George McMillan.
"We really want to take the time to honour this amazing volunteer who, for the past four years, has been making and selling his wonderful wooden garden windmill birds to raise money for us.
Travelling throughout the Bay of Plenty to do so, he has raised more than $15,500.
"An octogenarian, his bright, bubbly, positive self shines bright wherever he goes," adds Hilary.
"Thank you Poppa George; you are a most wonderful support – a strength and reliable friend. We are so grateful to have you as part of our whanau. Thank you for all the many hours and hours of loving labour you have given to us. Not to mention the joy the birds give – helping our children to fly."

Source: https://theweekendsun.co.nz/