Covid Bear Hitting the Stores for it's 1st Anniversary Post Nationwide Lock Down Levels 4&3  
Remember the teddy-bear mania during the lockdown? Thousands of Kiwi kids put their teddy bears in windows to make a tough time fun. Sadly, lots of Kiwi kids miss out on fun like this, because they've experienced neglect or abuse, and are in need of healing.
Homes of Hope Children's Charity provides foster care and play therapy to help heal trauma and promote healthy development. Partly funded by the government – in these pressing times, we need help now more than ever. Especially since we are trying to build another new home for more and more children who are in need of care. Will you help us fundraise by honouring your Covid-Bear with a special badge?
We have launched this fundraiser with a bunch of good guys at New World and Four Square stores participating across the Bay of Plenty. Badges will be in store from the 22nd March 2021. Show your bear you care and save this historic time for future generations. Each badge has the dates of lock-down level 4&3 on it
WILL YOU HELP?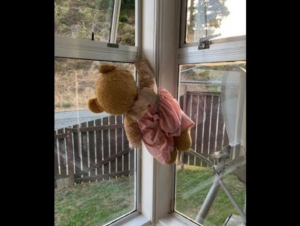 Vulnerable New Zealand children need more help than ever, in this post-Covid world.
We believe that a crises (like Covid-19) can be a catalyst for social change. Which is why we invented the badge for Covid Bears.
We do know that there was a rise in family harm, as women called for an increase in help by police as the lockdown set in. There was a 22% rise in investigations during that time. To add to this, Assistant Commissioner Sandra said, that there was likely to be a higher number than reported, as family harm often goes unreported.
New Zealand has one of the highest rates of child abuse and neglect in the OECD, and on average one infant is murdered every five weeks.

Hazel Hape, Manager, Tauranga Women's Refuge believes there has been a spike since COVID lockdown and it is the children who are not getting the therapeutic care they deserve from their traumatic times, there are not the services there to provide "Children have a right to be loved, nurtured and supported unfortunately, family violence can have devastating and life-long physical, emotional and psychological impacts and we continue to be worried about the lack of specialist family violence and child centred responses to help children recover from their trauma"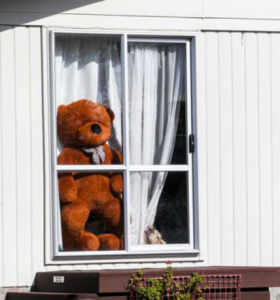 BUY YOUR BEAR A BADGE AND HELP OUR BABIES IN NEED
Participating New World Stores are:
New World Brookfield
New World Gate Pa
New World Kawerau
New World Whakatane
New World Te Puke
New World Mt Maunganui
Participating Four Square Stores are:
Four Square Cherrywood
Four Square The Lakes
Four Square Papamoa Beach
Four Square Ohope Beach